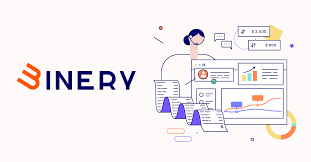 About Binery
Binery is a financial concierge that combines their self-developed accounting software together with a team of actual accountants to manage clients' books efficiently.
Location
Singapore, Singapore · Kuala Lumpur, Malaysia · Hong Kong, Hong Kong
Industry
Software Development
Summary
We offer an all-inclusive bookkeeping solution designed to streamline financial processes. Our professional accountants, supported by our cutting-edge accounting software, work collaboratively to ensure your books are managed efficiently. By choosing our affordable bookkeeping service, you can relax and trust them to take care of all your financial tasks, freeing you to focus on other aspects of your business.
Why did Binery choose Sprout?

We chose Sprout for several reasons. Firstly, Sprout provides efficient and comprehensive management of their cap table and shareholder data, streamlining their financial operations. Secondly, Sprout's platform allows Binery to harness this data and utilize it to run sophisticated fundraising models, enabling them to make informed decisions and optimize their capital raising efforts. Ultimately, Sprout's capabilities in cap table
management and data-driven fundraising models made it the ideal choice for Binery's needs.
Results: having created a single source of truth, Binery was able to run complex scenarios with ease using Sprout's share management and fundraising tools.
This ultimately helped Binery gain insights on fundraising strategy, ie, how much to raise and what does post investment dilution and shareholdings for the founders and other shareholders would look like
Pain Points Binery
Assist in Scenario modeling
How founders shares get diluted
How to run funding scenarios off the current cap table
Key features used in Sprout
Sprout's platform and unique services layer provided a total solution to support Binery with fundraising analysis by utilizing the Scenario Modeling module to forecast shareholdings under various investment scenarios.
Sprout enabled the digitalization of Binery's shareholding and cap table information, moving from spreadsheets to a total digital platform.
Sprout's Scenario Modelling tools provided Binery with possible outcomes and helped them formulate a strategic roadmap that aided the founders in comprehending the company's cap table and possible funding options.
Sprout's financial modeling is beneficial to businesses that are considering different fundraising sizes to investor preferential payout terms to model a post-round cap table and future payouts.
By modeling different scenarios, businesses can better understand the potential outcomes of different financing options and make more informed decisions about their fundraising strategy.
"We chose Sprout because of their complete solution and attentive onboarding of our cap table data as well as their fundraising features which enable us to make informed and transparent decisions without building complex spreadsheet models."
Haywood Shum, CEO & Co-Founder